10 Heart-Shaped Preschool Projects for Happy Valentine's Day
Hearts and flowers and love all around. Valentine's Day is a season of joy and togetherness for the entire family. Furthermore, it's also a great opportunity for self-expression among the youngest members of the household, as toddlers and preschoolers pour their affection and caring into Valentine's Day crafts.
Behind the scenes, early childhood experts know that arts and crafts are essential to every kid's physical and social development. All that painting and gluing and drawing and cutting and coloring and manipulating is building fine motor skills, coordination, listening, creativity, confidence, and self-esteem. Plus, kids love hanging out with parents and siblings—what better way for you to enjoy quality time than talking about ideas while making something memorable and new – with Valentine's Day Crafts.
Above all, creating Valentine's Day Crafts together is fun! So here are 10 projects to get you started, complete with needed materials (items are available around the house, at the craft shop, big box or dollar store) and instructions for bringing your masterworks to life. For toddlers, you'll want to cut heart shapes and help write messages. Preschool-age kids can handle most of the work on their own with an assist from you. Since this is Happy Heart's Day, we'll focus on heart-themed crafts.
Valentine Stickers Card
This is as easy as it gets.
Materials
Scissors
Cardstock or construction paper in white, red, pink, or other festive colors
Packages of Valentine stickers
How to
Cut the paper into card-sized pieces, fold in half, and cut each folded card into a heart shape.
Let your child choose images and stick them onto the card, covering as much or as little of the surface as they like.
Preschoolers who are writing can add a simple message and sign their names. Toddlers can scribble whatever design they want.
An easy variation is adding a photo of the child or the family or anything else your young artist wants to the use.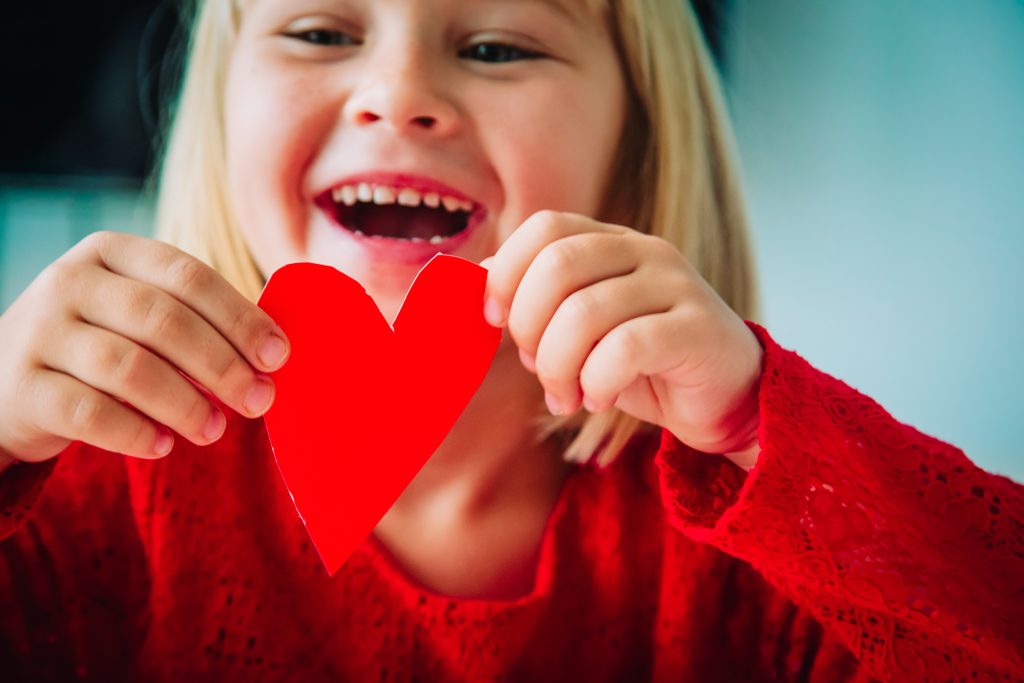 Heart Stamp Poster
Materials
Paint in multiple colors
Cardstock
Paper plate
Empty cardboard tube from paper towels, toilet tissue, or wrapping paper
How to
Bend the cardboard tube by pressing down in the center of one end to shape into a heart.
Pour small amounts of paint in several colors onto a paper plate.
Dip the heart into a paint color and stamp on the paper. Kids can stamp as many hearts and colors as they want; every poster is different and unique.
Let the paper sit while the paint dries.
Hang the poster on the frig, in the child's room, or anywhere else where it can be seen and admired.
Valentine Name Puzzle
Materials
Cardstock or construction paper
Markers
Scissors
How to
Cut a heart from cardstock or paper.
Write the child's name in big letters across the heart. Older kids can write their own names.
Draw zigzag lines between each of the letters in the name.
Turn the paper into puzzle pieces by cutting on the lines.
Reassemble the puzzle pieces to form the name. If desired, glue the puzzle to a piece of paper. Or take the puzzle apart, store it in an envelope, and put together on another day. If multiple kids are involved, trade puzzles so everybody puts together different names.
Cupid Arrow Sticks
Materials
Wood craft sticks
Foam or paper glittered hearts in various shapes and sizes
Glue
How to
Paint craft sticks, if desired, or leaving the wood natural is fine too. If painted, let sticks dry before going on.
Add a dab of glue to the end of a craft stick.
Apply a large heart to the glue and hold in place until dry.
Put glue on the other end of the stick.
Place a smaller heart on the glue and hold until dry.
Write a name or message on the stick or leave the stick as is.
Hang cupid arrows with ribbon, display in a jar or clear vase, or give away as tokens of affection.
Paper Plate Heart Hat
Materials
Full-size paper plates with Valentine colors or designs
Scissors
How to
Cut a circle in the plate, leaving several inches attached at the front and 4 inches all the way around for a brim. Adjust the size of the circle to fit the child's head.
Cut the inner part of the plate into the shape of a heart.
Raise the heart so it stands up at the front of the hat and wear.
Hat can be decorated with paint or crayon if that's what the young artist wants to do.
Hershey Kisses Wreath
This project works best with older preschoolers. It is for decoration only and candy should not be eaten.
Materials
Flat Styrofoam heart-shaped ring
Aluminum foil
Toothpicks
8 bags of chocolate kisses
Glue
Bow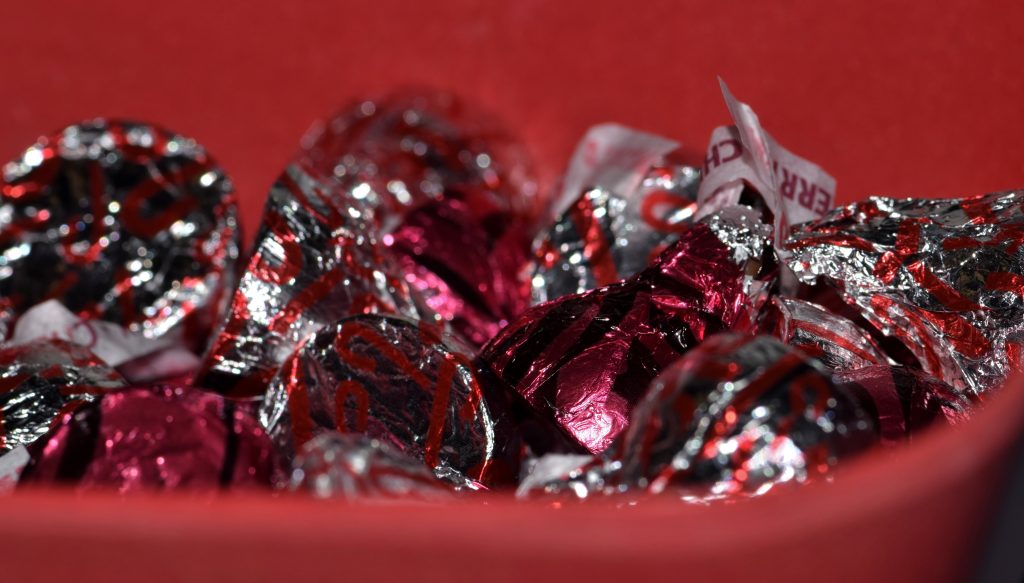 How to
Wrap the Styrofoam wreath with strips of aluminum foil.
Cut the toothpicks in half and insert one-half pick into the bottom of each foil-wrapped chocolate.
Dip bottom of chocolate with toothpick into glue.
Push toothpick with chocolate into the sides and front of the wreath. Build layers by angling chocolates to cover the entire surface.
Let wreath dry overnight.
Attach a bow and display wreath on a door hanger.
Jeweled Heart Suncatcher
Materials
Large clear plastic milk or water jug. Clean and dry thoroughly to remove all traces of milk.
Scissors
Glue
Acrylic jewels in various shapes and sizes, sequins, or glitter
Hole puncher
Ribbon
How to
Cut the large, flat sides away from the jug.
Draw a heart shape on the plastic and cut out.
Punch a hole in the top of the heart.
Cover one side of the heart thickly with glue.
Stick the acrylic jewels (or sequins or glitter) to the plastic and set aside to dry.
Thread ribbon through the hole at the top.
Hang in a sunny window for sparkly display.
Fingerprint Heart Valentine Tree
Valentine's Day just isn't complete without handprint artwork.
Materials
Cardstock, preferably white or ivory
Paints
Paper plate
Pencil
How to
Cut cardstock for a large-size card or poster.
Draw with pencil around your child's hand and forearm on the paper.
Fill in the hand-arm outline with paint.
Place small amounts of paint in various colors on a paper plate.
Apply paint to the tip of the child's finger.
Place the painted fingertip down firmly onto the cardstock at a slight angle, leaving behind a print.
Repeat with a different color, joining the second print to the first to form a heart shape.
Fill in around the hand-tree with fingerprint hearts in an array of color combinations.
Hang poster for all to admire or write a message inside the card.
Valentine Paper Necklace
Materials
Paper straws in Valentine's Day Crafts colors or with Valentine heart designs
How to
Cut the straws straight across into small pieces.
Thread the pieces of straw onto the cord to whatever length is desired. Tie the ends of the cord to secure. Wearing multiple strands gives a dramatic, layered look.
Valentine Fingerprint Vase
This is another activity targeted to older kid's Valentine's Day Crafts. The vase is sure to have sentimental value for many years.
Materials
Small white vase, bud vase, or milk jug, thoroughly cleaned with labels removed
Acrylic paints
Paper plate
Permanent marker
Clear acrylic spray coating
How to
Make sure the surface of the vase is clean and dry.
Pour small amounts of paint in various colors on a paper plate.
Apply paint to the child's finger or thumb and press at an angle to the vase.
Repeat paint application at a slightly different angle, overlapping two prints to form a heart.
Add any number of fingerprints to the vase—the young artist is in charge.
Use permanent marker to write a Valentine message on the vase.
When completely dry, spray the vase with acrylic coating to preserve this lovely objet d'art.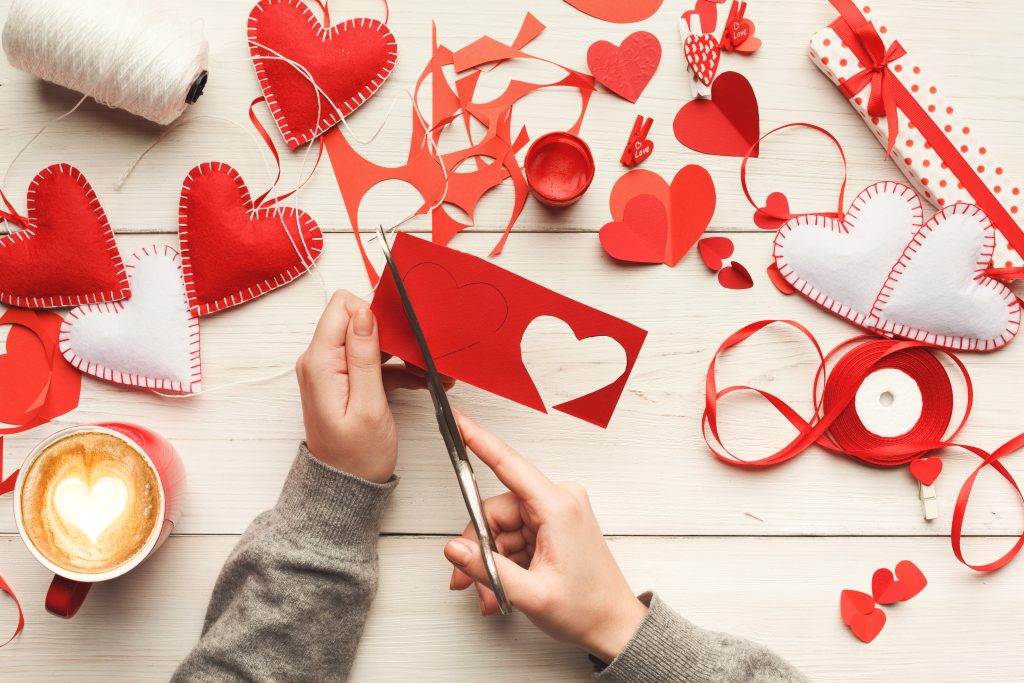 These suggestions are only a beginning. Online research yields hundreds of ideas, and tapping into your own creativity, you'll come up with many more. Have your budding artist sign their masterworks and add a date. These Valentine's Day crafts are sure to be treasured keepsakes.