Early Childhood Development Jobs with ELCA
ELCA is actively pursuing additional centers. As a result, additional opportunities for promotions will become available.
If you are looking for a rewarding career in early childhood development, where you can make a positive difference in the lives of young children, Early Learning Children's Academy is the place for you. We would love to have you join our early childhood development team! ELCA offers full-time and part-time early childhood development jobs, for both teachers and for assistant teachers.
At Early Learning Children's Academy, we pride ourselves on offering our team a great work environment, competitive salaries, benefits, and ongoing training. Additionally, our participation in Keystone STARS provides our talented staff with the opportunity for tuition assistance as they pursue the advancement of their education in early childhood development.
Contact an Early Learning Children's Academy in your area to learn more about our available positions and to schedule an interview.
Make sure to ask us about the generous benefits, including the signing bonus and 50% discount on child care costs, that we offer along with our rewarding early childhood development jobs!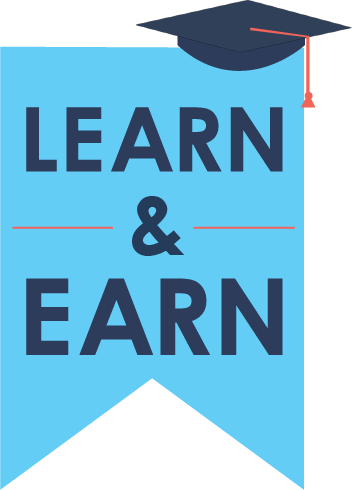 Earn your college degree at no cost with ELCA!
The Learn & Earn program is the result of a partnership between ELCA, First Up, and local college support through the Community College of Philadelphia, Delaware County Community College, and Arcadia University. This program will allow teaching staff to obtain any of a CDA, an Associates or Bachelor's degree in ECE for free. Participants can also receive college credits toward their degree for having a CDA, and also for working full-time at our centers. Funding for this program is generously provided through the Teacher Education and Compensation Helps (T.E.A.C.H.) and Public Health Management Corporation (PHMC). We also participate, directly, in the T.E.A.C.H. program, should a teacher wish to pursue their degree for free, but outside of the Learn & Earn program and participating group of colleges available through Learn & Earn.
Professional Development Opportunities
ELCA is proud to offer our staff professional development opportunities. Whether through the Learn & Earn or T.E.A.C.H. programs described above, through our annual professional development day we host every October, or specific training sessions performed at the centers. To learn more about professional development opportunities within our organization, please contact: [email protected].
Visit Indeed.com to learn more about our current job postings.
Early Learning Children's Academy is an Equal Opportunity Employer
Employment shall be granted without regard to race, culture, color, creed, religion, national origin, gender, or disability.