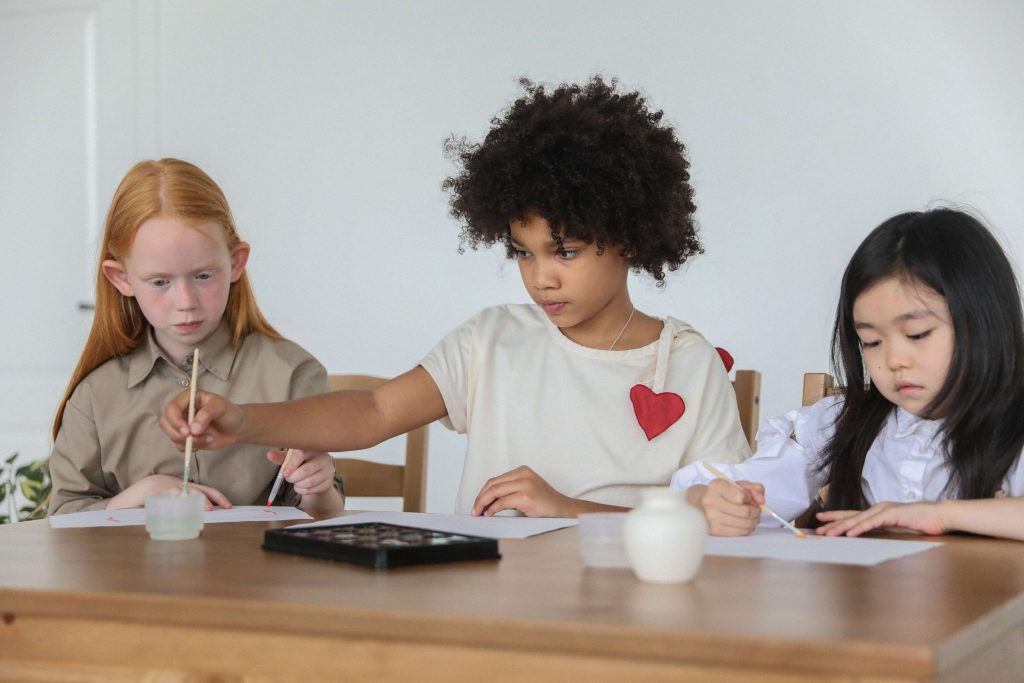 They're the most mundane of household staples. Yet in the hands of enthusiastic preschoolers, paper towels are transformed into colorful works of art. The process is simple, the materials minimal, and projects can be easily adjusted to match the ages and skills of the kids. The results are sure to delight your budding artists and assure parents their children are learning and growing while in your care.
Your best advice for understanding paper towel art – go online. Seeing how it's done is the quickest way to learn. YouTube and other internet platforms offer dozens of videos listing materials, demonstrating how to create artwork, showcasing results, and giving tips for success. Many websites are freely accessible; others require a sign-up and perhaps a modest fee. Simply type paper towel art for preschoolers or a similar inquiry into your search engine, then explore the abundant results to find out what to do.
Here's What You Need
One of the best things about paper towel art is that you probably have everything in your supply closet already. Additional items are readily available at the big box/dollar/drug/crafts store or supermarket near you. Make sure you stock up on:
Paper towels. Any brand will do, although varieties made of heavier paper are stronger to work with. Towels with a pattern are also useful because the pattern can become a vibrant design.
Markers. Washable ones in lots of colors are best; make sure to get broad tips to avoid tearing the towels while drawing. Indelible black sharpies are useful for advanced projects suitable for preschool kids.
Flat pan or dish to hold water. Or a squirt bottle works just fine.
Clothesline or lightweight rope to hang up drying artwork.
A table or other flat surface to work on.
Paper or plastic to spread over and protect the work area.
That's it. You're ready to go.
Here's What You Need
Separate two connected sheets from the roll of paper towels and fold (do not tear) in half at the perforation. Place the towel on the flat work surface and open it to expose the inside.
Using the markers, create a design or picture on the inside sheet. Cover as much of the area as possible with color. For the youngest children, blocks of color or a simple rainbow are all that's needed. Older kids can draw a flower or tiger or cartoon character or anything they want, although relatively uncomplicated images are best for this type of art.
At the perforation, fold the top sheet over the drawing. The color underneath will slightly show through.
Carefully place the folded sheet into the pan of water. (Hint: the water needs to be only an inch or so deep.) Or use the squirt bottle to spray the paper towel. Voilà – the magic happens! As the water soaks through the two layers of paper, the colors on the bottom spread through and appear on the top sheet; a brilliant picture is revealed! (Watch a YouTube video – you'll see!)
Hang the picture on a clothesline to dry. You want the air to get underneath and all around for even drying.
Display completed artwork around the crafts area or playroom or send it home for families to admire and enjoy.
Older children ready for a more involved project can use an indelible black sharpie to outline an image on the top paper towel sheet. Since the sharpie outline will bleed through slightly to the under the sheet, the youngster can color in the outline with bright shades. When the folded towel is placed in the water, the colors underneath spread to the upper sheet, filling in the black outline with the reds and blues and oranges, and greens from underneath.
As the kids see the colors emerge they will become surprised and delighted no matter what age. Adults, too. It really does look like magic.
Combining Art with Learning
The endless possibilities of paper towel art make it a rich teaching resource. For example, you can talk about colors, the rainbow, why colors matter, and how different colors can make us feel a certain way.
Or describe the trees, birds, and flowers in your area, go out for a walk, and have the kids create an image of what they saw.
Animals are endlessly fascinating to youngsters. After discussing the diversity of nature's creatures, ask your budding artists to draw a favorite on their folded paper towels.
Seasonal and holiday cards are another possibility. Mother's and Father's Day, Independence Day, Easter and Passover, Christmas and Hanukkah, Halloween, Valentine's Day, St. Patrick's Day – all are highly visual and full of images waiting to be created. Thinking of seasons, each one is different and they change four times a year.
But don't stop there. Online research will turn up more ideas – like paper towel origami. By folding a towel, you can create roses, birds, bunnies, and lots more. And don't forget the cardboard paper towel tube. You can craft this core into anything. Imagine bracelets and castles to kazoos and napkin rings, to puppets and snakes and wind catchers.
Paper towel art is adaptable to various ages and skill levels. Very young children can make simple artworks as soon as they're able to hold a marker. As children grow and abilities advance, projects become more complex. Plus, paper towel art is the perfect way to keep restless kids busy when bad weather confines them inside.
Paper towel art never gets old because there is so much you can do with it. It's a great way for kids to stretch their imaginations; they'll come up with all kinds of super ideas for art to create.